Extended to June 15th. 2016
The Robert Bateman Centre -
470 Belleville Street,
Victoria, B.C. V8V 1W9,
Canada -
Hours: Daily: 10am - 5pm
David Monk (left) and Michael Hammond Todd (right) were directly responsible for both exhibition concept and delivery. They worked tirelessly to create this art exhibition; selecting artists, finding the right venue, partnering with the Bateman Centre, and looking after all the details.
David Monk is a PhD student and sessional instructor in education at the University of Victoria. David is interested in education concerning (international) social and environmental justice, particularly the work being done by civil society and activist organizations to raise awareness and self consciousness of personal impact and responsibility.
Michael Hammond-Todd is a doctoral student at the University of Victoria. As both a wildlife and formal educator, he has worked in a variety of educational settings and environments in the United States, Mexico, Costa Rica, and Canada. His research interests revolve around environmental education, mobile learning, and science education in remote and rural communities.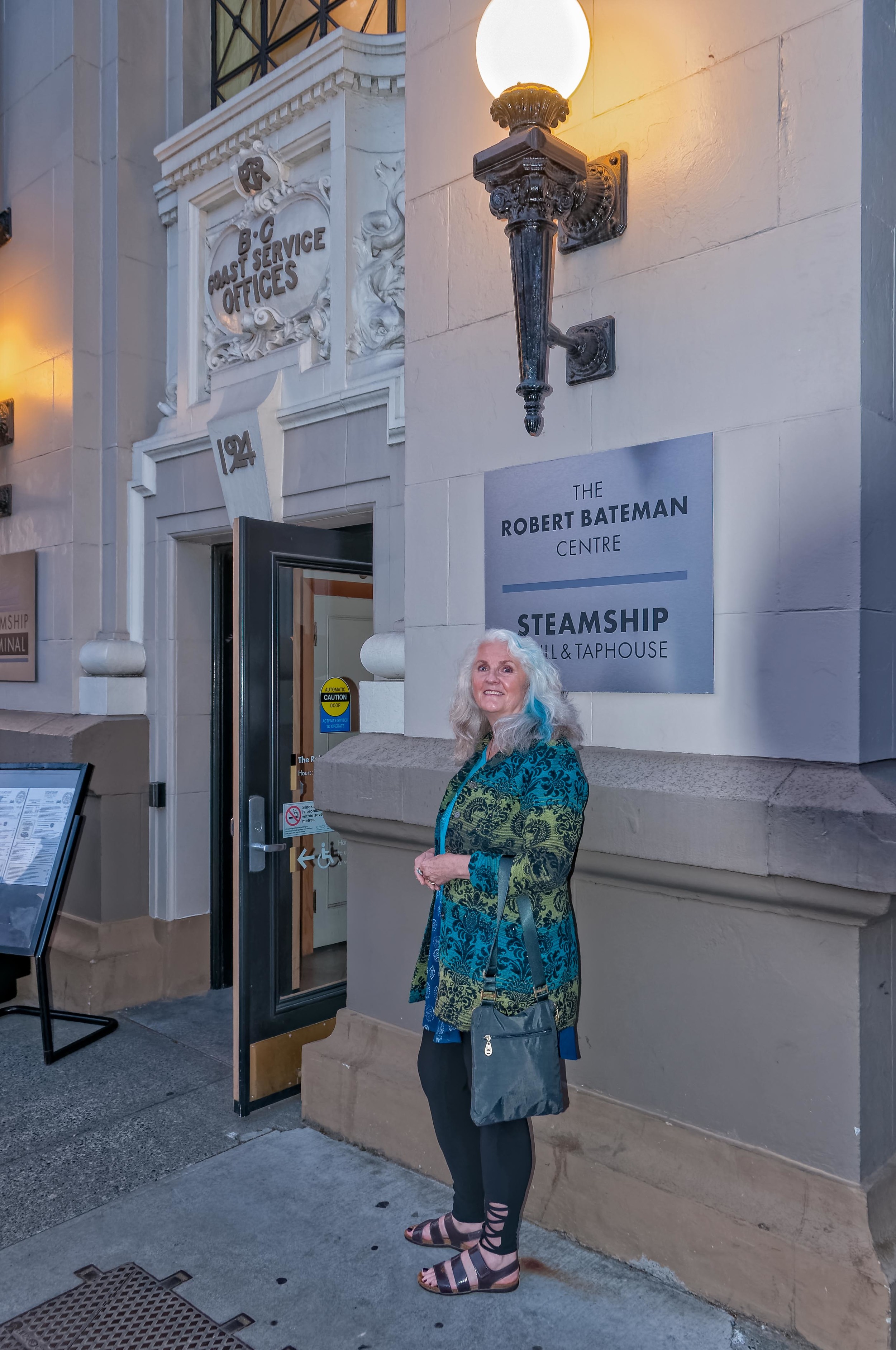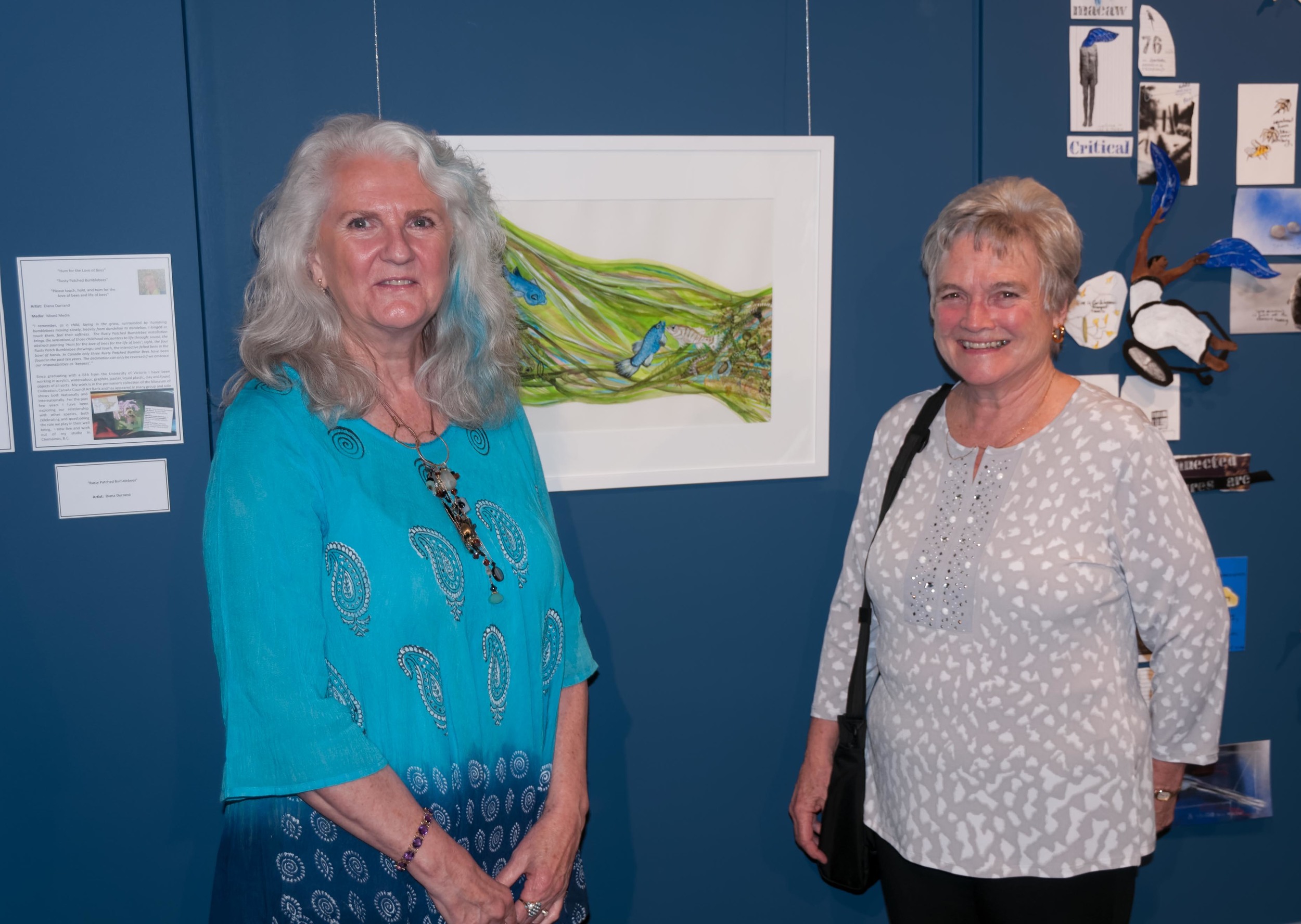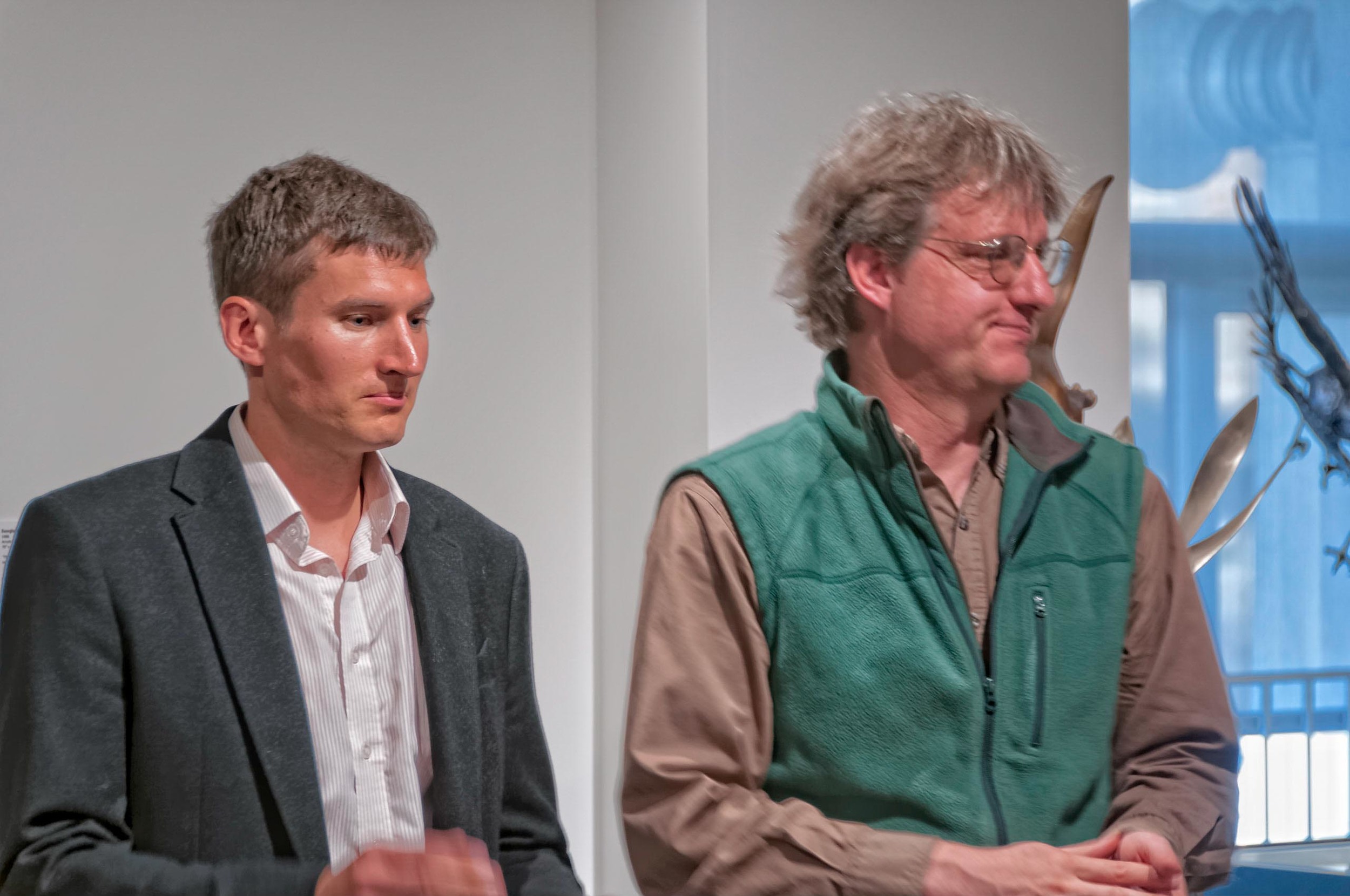 Video of Exhibition - Jill Ehlert
My artwork in the exhibition:
"Devils Hole pupfish" (Cyprinodon diabolis) © 2016 Jill Ehlert 13" X 19"
Artist statement - Jill Ehlert
The endangered Devils Hole pupfish is significant to me given my interest in aquatic environments and water related species. There were only 131 Cyprinodon diabolis recorded in the biannual count conducted in September 2015. My watercolour painting focuses on a limestone shelf that measures 3.0 X 6.3 metres, which the pupfish depend on for spawning and for much of their diet. The pupfish eat primarily microscopic diatoms, a type of algae that clings to large bright green filamentous algae. Other species found on this shelf are tiny invertebrates: amphipods, spring snails, two types of beetles, and flatworms. The Devils Hole pupfish are considered the rarest fish in the world; they measure one-inch long and are so named, as they seem as playful as puppies. In this artwork, I enlarged the pupfish and took artistic license varying the scale of the microscopic world that surrounds them.
Information on the Devils Hole pupfish
Cyprinodon diabolis - Devils Hole pupfish is the most geographically isolated organism in the world. It is found in the SW corner of Nevada –90 miles north west of Las Vegas.
60,000 years ago, a seismic event occurred splitting open a limestone chasm, creating a "fossil water" portal measuring 22.0 X 3.5 meters. This portal named Devils Hole is a gateway into a flooded cave system over 400 feet deep. Devils Hole is part of the Great Basin Desert and lies in a disjunct portion of Death Valley National Park, at 2400 feet in elevation. This is an extreme desert environment receiving only 3" of rain per year and is know as one of the hottest locations on Earth. The Devil's hole pupfish tolerates extreme water temperatures of 92.3°F , which is also three times the salinity of the ocean.
The Devils Hole pupfish survive only a few inches below the surface of the water on a shallow limestone shelf, measuring 3.0 X 6.3 meters. The isolation of the Devils Hole pupfish through geological and climatic changes and the great genetic variability of the fish contributed to the pupfish survival and evolution in to what you see today. This endangered species is the rarest fish and smallest known pupfish anywhere in the world. Cyprinodon diabolis is a poster fish for conservation biology, it seems to defy the assertion that a small, isolated population of organisms cannot possibly persist over time. There is a 28-32% risk of extinction over the next 20 years. There were 131Devils Hole pupfish counted in September, 2015 a rise from 38 counted in 2006.
For more information: https://www.nps.gov/deva/learn/nature/devils-hole.htm