Please email me about taking one-day workshops in my studio for your group of 3-4 students.
Below are 3 examples of two-day workshops that I taught in the past. I can adapt each class to one-day workshops, or by combining content from all three. As well, I can tailor make something to suit your needs.
I am currently developing one-day workshops based on some of these workshop ideas. (as of July 2019)
This two-day workshop focuses on unconventional ways of creating marks. The first day involves creating a collection of marks on paper using traditional tools including pen, ink and graphite, as well as more unconventional ones such as an awl, smoke, needle, thread, hammer and nail. A range of movements and actions will be explored: puncturing, smoking, burning, rubbing, cutting and sewing, etc. You will make a book and a collage from mark-making explorations on the second day. Design and composition will be covered along with a demonstration on different methods of adhering collage materials. This workshop is ideal for those looking to expand their mark-making vocabulary and create unique surfaces with inventive marks. No experience necessary.

EXAMPLES OF THE DIFFERENT ACTIONS, TOOLS AND PROJECTS WE WILL EXPLORE IN THIS WORKSHOP.
All samples below are by Jill Ehlert © Click on thumbnails below to see a slideshow.
2. SKETCHBOOK DEVELOPMENT
The focus of this class is to give a series of fast paced exercises to get you comfortable and working in your sketchbook. A wide range of ideas, materials and techniques will be explored in your sketchbook to get you started; they are designed to keep you going back to your sketchbook. Backgrounds, techniques, mark making explorations, sketching, drawing, writing, etc. will be explored. You will leave this workshop inspired to make sketchbook work part of a daily practice. No experience necessary.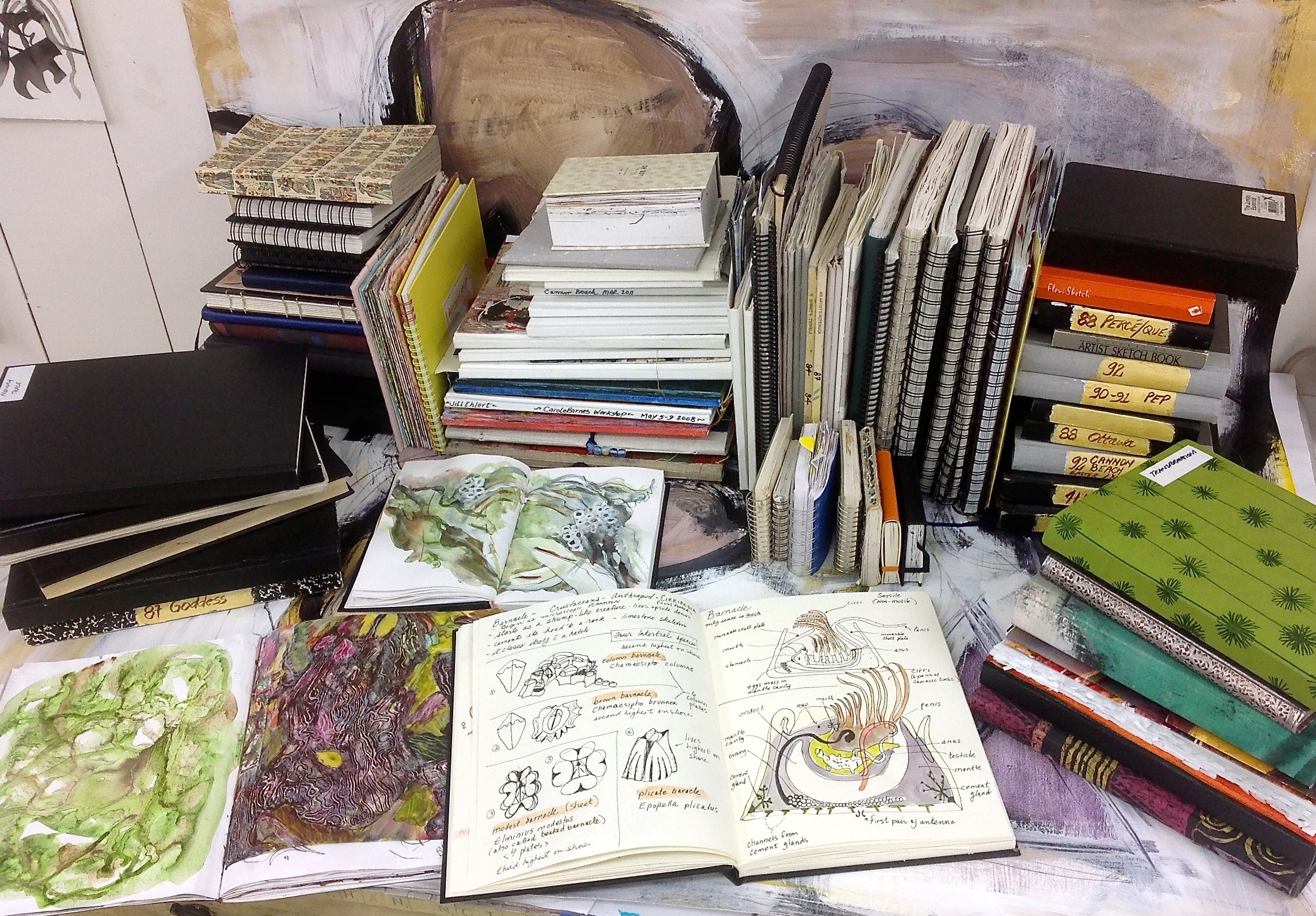 EXAMPLES OF SOME OF THE PROJECTS WE WILL DO IN THIS WORKSHOP
All samples below are by Jill Ehlert © Click on thumbnails below to see larger images in a slideshow.
3. Drawing: Collecting, Observing, Exploring
This workshop concentrates on ways of looking and working. You will work with plant material as sources of inspiration to extract information and interpret what you see through mark making. The focus of this workshop is to explore new ways to respond to your "collections" and to discover their essences rather than a direct representation. There will be an exploration into materials, techniques and mark making through sketching, drawing, painting and ink washes. This workshop will provide a great way to get new ideas for drawing, painting and other forms of design. No experience necessary.

Click on images below to enlarge. All photos and work below are by Jill Ehlert ©
EXAMPLES OF SOURCES OF INSPIRATION AND CLASS PROJECTS.